About Renny and Holistic Integration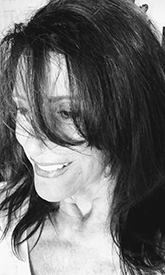 Renny Sherrow has been a Somatic Practitioner for nearly thirty years -- leading the way as the first in her field to introduce Massage Therapy as a healing modality in S.W. Pennsylvania. Her pioneering spirit over the years has synthesized Cellular Expansion & Healing, Movement Therapy, Illuminated Business and Spiritual Coaching and Soul Whispering © as the foundation of her private practice at Holistic Integration, LLC.
Renny has an M.A. in Energy Medicine and an educational background in Nursing, Communications and Theology. She is certified as a Rosen Method Movement Therapist, and has over 14 years of practicum experience in Continuum with Emilie Conrad and Gabriel Roth (The 5 Rhythms). She is also a graduate of the Vanati School in Pittsburgh, where years of advanced evolutionary consciousness studies undergird her healing abilities as a Practitioner and Distance Healer. Further exploration in consciousness studies expanded her mastery in navigation with human subtle energies and the implementation of Energy Medicine. As a student of Carolyn Myss, PhD., and C. Norman Shealy, M.D., PhD. Renny offers a scientific base to her teachings on Soul Evolution.
A thought leader in compassionate caregiving, Renny is a frequent presenter on how to consciously create Healthy Energetic Boundaries for healers, caregivers, therapists, empathic and sensitive people.
Retreats along with one on one Spiritual Coaching are offered for those who have suffered trauma from childhood abuse. With many years of research and study of the impact of early trauma on the brain, many people have regained a sense of safety and empowerment in their lives. Renny adheres to a deep commitment to provide a safe healing container for those whose lives have been affected by trauma.
Her commitment is to support all who explore healing through the wisdom of the body. Her belief is that by expanding consciousness and surrendering to inner wisdom, spiritual growth happens with grace and ease.